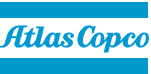 We offer below a range of tools from Atlas Copco that we have selected as having particular relevance for the GRP industry.
The Atlas Copco tools are high quality, light, powerful and ergonomically designed with handles that optimise the transfer of high feed forces direct to the work piece and substantially reduce physical strain on the operator.
Noise and vibration levels are minimised and all machines produced by Atlas Copco bear the CE marking and conform to EU Machine Directive 98/37/EC, which focuses on safety.
We show a small selection but there are over 2000 tools in the Atlas Copco range. If you require light, high quality pneumatic tools please contact us.